Come Meet our New King: AMORE™ King of Hearts Petunia
Visit us at Royal Van Zanten from 11-14 June 2019
A visit to Danziger's FlowerTrials display at Royal Van Zanten will wow you! We've created an innovative experience that will delight and inspire, highlighting new introductions, retail display ideas and fun new ways to share the love of gardening. Our 2020 introductions offer more color and bloom power than ever before. The company's team of more than 100 scientists, researchers and professional breeders are bringing new varieties to market that deliver dependable and beautiful garden performance.
"Danziger is focused on our customer's success, developing innovative varieties that are easier to grow, provide dependable performance and deliver more profits," says Ori Danziger, Deputy CEO of Danziger. "We know you'll love them and consumers will too."
Here is a look at just some of what's new for 2020.
Petunia AMORE™ King of Hearts
Share your love with the beautiful blooms of AMORE™ Petunias! AMORE's™ unique flowers feature five elegant heart shapes outlined in bright hues. This stable, uniform series delivers stunning flower power that captures consumer's attention.
Joining the series for 2020 is AMORE™ King of Hearts. This gorgeous petunia boasts regal red and white blooms, with five perfect red hearts. King of Hearts flowers early with loads of large blossoms that show good resistance to rain. It features a compact, mounded habit and is recommended for 12-15 cm pots, baskets and combos. Each AMORE™ variety creates shopper-stopping hanging baskets and containers at retail. Share the power of love in the form of flowers with all the AMORE™ varieties including, new King of Hearts, new Fluttering Heart, new Pink, Queen of Hearts, Fiesta and Purple. They are the perfect garden gift!
Petunia CAPELLA™ Neon Pink
CAPELLA™ Petunias prove that big things can come in small packages. CAPELLA™ provides impressive flower power with a compact habit, making it the ideal solution for small space gardening. Growers are telling us that CAPELLA™ may just be the perfect petunia because it meets all their needs. CAPELLA™ performs well in propagation, blooms early enough for any program and creates a tidy 12-15 cm pot with minimal PGR. This floriferous, mounding petunia has a small footprint from the growers' table to the retail display, then continues its beautiful performance for the end-consumer. New for 2020, CAPELLA™ Neon Pink features glowing, bright pink blooms that add a burst of color to small pots, baskets and combos.
Verbena VANESSA™ Compact Series
VANESSA™ Verbena are bred for mildew tolerance and flower power. Danziger tests prospective varieties by inoculating the seedlings with mildew. Only those that stay clean and in full color are brought to market. The new VANESSA™ Compact Series brings the same big color of the original VANESSA in a smaller package. This series features a compact habit in more than ten color options including Compact Neon Pink, Compact Violet and Compact Bicolor Purple. Recommended for 12-15 cm pot, the new Compact series provides excellent mildew resistance and won't cycle out of flower.
Calibrachoa LIA™ Dark Red
Danziger makes choosing the right size calibrachoa even easier. Each series fills a specific market need. With the LIA™ Calibrachoa series, your baskets and combos will be bursting with noticeably bigger blooms. LIA's™ larger flowers truly capture consumer attention at retail. LIA™ Dark Red is a 2020 standout with clear, deep-red blooms. This early flowering series shows good vigor, making it perfect for baskets and combos.
 Calibrachoa COLIBRI™ Blizzard
COLIBRI™ Calibrachoa is bred with both the grower and end-consumer in mind. This compact, well-performing series features loads of blooms and good branching with little PGR use, providing growers with more profit per square foot with the least amount of effort. COLIBRI™ is perfect for quart programs; however, it will also make a compact basket or combo.
Important to note is that it also continues to grow and bloom well in the home garden, making consumers feel more successful. New for 2020, Blizzard is an early flowering variety that features large, snowy-white blooms.
TIMELESS™ Bidens
Create beautiful "wow factor" displays with the TIMELESS™ Bidens collection. This new generation of Bidens flowers early and keeps the show going throughout the season, with excellent heat tolerance. New for 2020, BLAZING™ EMBERS features large, fiery orange blooms and an upright habit. YELLOW SPLASH™ also joins this popular series, offering sunny yellow flowers. Available in more than ten colors, TIMELESS™ Bidens are perfect for small pot production.
Portulaca PAZZAZ NANO™
Create mounds of vibrant, heat-tolerant color with the Portulaca PAZZAZ NANO™ series. This early flowering, compact series fills 12-15 cm pots, baskets and containers with amazing color. It can also be used as a groundcover. New for 2020, PAZZAZ NANO™ Candy Pink features loads of lipstick-pink flowers with a sunny yellow center. PAZZAZ NANO™ is perfect for growers because it grows small but sells big. Check out all five colors in the series.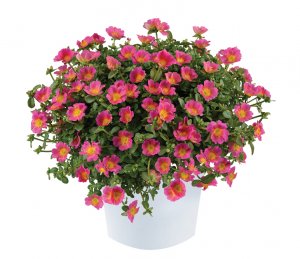 Danziger Perennials – A walk through our perennial display highlights new varieties including:
Erysimum SUNSTRONG™ Orange
Sunstrong™ Erysimum is a true breakthrough in breeding. In the past, Erysimum were seen only as spring bloomers. Now, Sunstrong™ flowers early and provides blooms all summer long, even in warm climates. Sunstrong delivers first year flowering without a cooling period, offering growers more flexibility and the opportunity to extend the season on either end.
Sunstrong™ Orange has bright, tangerine hued flowers with a delicate, fresh scent. This perennial has exceptional heat tolerance and is a great filler plant in large containers. It is also stunning in the landscape!
 Salvia Apex™ Blue and Pink
Apex™ Salvia, available in both Blue and Pink, features first year flowering with no cooling period needed. This compact and exceptionally uniform salvia series is very hardy. Apex™ boasts upright, well branched inflorescences that are very quick to rebloom. The foliage stays short and narrow, allowing the flowers to stand out.
Caryopteris PAVILION™ Pink
PAVILION™ Pink Caryopteris, delivers late summer color that last through early fall. This perennial features first year flowering without a cooling period. PAVILION™ Pink's fluffy, blush-pink flowers arrive in late summer and last throughout the season. It is a great fall item!
Agastache SUNNY SPARKS™ Pink
SUNNY SPARKS™ Pink Agastache flowers around four weeks from transplanting and offers better plant structure compared to seed varieties. This perennial provides first year flowering with no cooling period needed. SUNNY SPARKS™ purple-pink blooms are very large and the flowers last for at least four months, from spring until frost, providing long-lasting color to garden beds and containers.
Guara STEFFI™ Dark Rose
The STEFFI™ Series of Guara provides first year flowering with no cooling needed. STEFFI™ Dark Rose shows excellent heat tolerance with a medium growing habit. It will also bloom in short days. This perennial provides continuous rosy, dark-pink blooms from early spring through fall.
About Danziger
Through innovative floriculture, creative collaboration and a spark of imagination, Danziger strives to produce extraordinary flowers to help customers achieve extraordinary success. Danziger is a global leader in bedding plant and cut flower breeding, backed by one of the largest R&D departments in the world. More than 100 scientists, researchers and professional breeders work to invent new varieties that are more durable, efficient, profitable and BEAUTIFUL
Nearly 1,000 customers in more than 60 countries count on Danziger varieties. Founded in 1953, the family-owned company is committed to bringing personal service to its customers. Danziger employs more than 1,500 people worldwide, with propagation facilities in Israel, Guatemala, Kenya and Colombia.