One size really doesn't fit all. This may be especially true when it comes to choosing the right varieties for specific growing applications. That's why Danziger is focusing breeding work on creating the right size plants that perform consistently for your specific growing needs.
 When it comes to hanging basket combinations, choosing the right plant material can make or break the final product. Your choices can be the difference between producing a stunning, top-quality, high-profit basket and one that is just average.
 "No one sets out to create a ho-hum basket," says Ori Danziger, deputy CEO at Danziger. "But, we've all seen baskets that are just OK, or basket combos that have one variety taking over the others. Picking the right plants can eliminate this problem. Choosing hanging basket annuals specifically developed for basket performance can also create efficiencies in the growing process."
 "Hanging baskets need to be designed for more than just color or form," says Lisa Heredia, marketing and key accounts for Danziger North America. "Choosing plants that play well together creates baskets that continue to look great as they grow throughout the season. This allows for longer retail shelf life and gives the consumer more enjoyment."
Choosing the Best Varieties to Create Top-Quality, High-Profit Hanging Baskets
Several Danziger series have been bred specifically with basket production in mind. 
 LIA™ Calibrachoa was bred specifically to perform well in basket production. This early flowering calibrachoa series features tight internodes, delivering more flowers. LIA also has noticeably larger blooms. All eight colors in the series pair well in combos, creating beautiful retail displays that continue to perform in the home garden.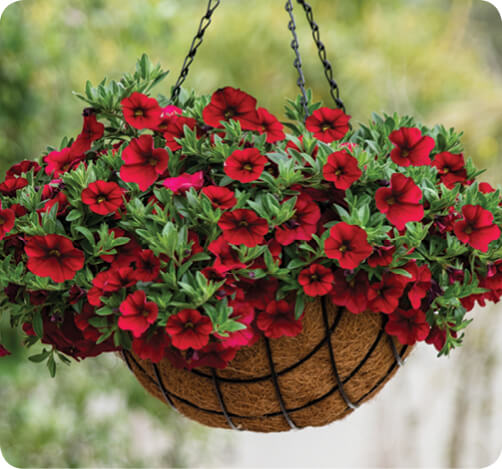 You can count on VANESSA™ Verbena to bring bold, season-long color to your hanging baskets. The days of verbena cycling out of flower are over. Each variety in the VANESSA series is tested for mildew tolerance and flower power. Only those that stay clean and in full color are brought to market. VANESSA's consistent color and cascading habit make it a wonderful choice for hanging baskets. Choose from four solid colors and three bicolors.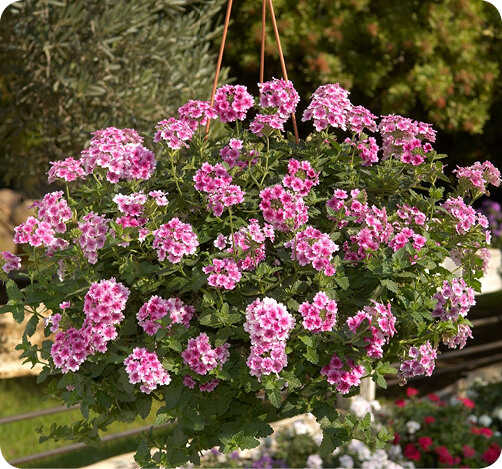 The CASCADIAS™ trailing petunia series brings big, long-lasting blooms to the category. This series is an excellent trailing annual for hanging baskets.  CASCADIAS flower early and feature a moderate branched structure, making them a natural for basket production. With 18 colors to choose from, you're sure to find the perfect variety for every hanging basket design.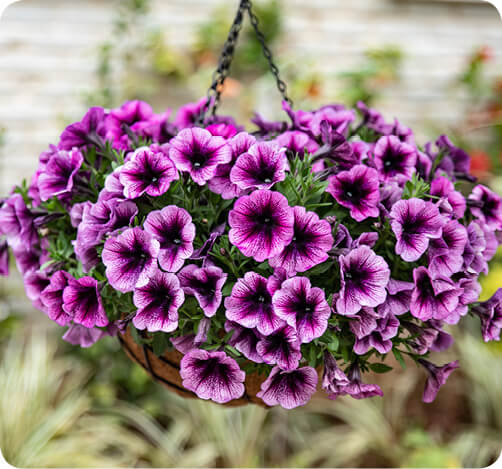 If you're not including AMORE™ Petunias in your hanging baskets, you're missing a heart-stopping opportunity. Each variety in the AMORE series features five perfect heart shapes on every bloom. These stunning mono- and combo baskets really capture consumer's attention at retail. AMORE is a stable, uniform series that flowers early and shows good resistance to rain. Its mounded, compact habit fills baskets nicely. The six varieties look great on their own and pair well with other solid color blooms.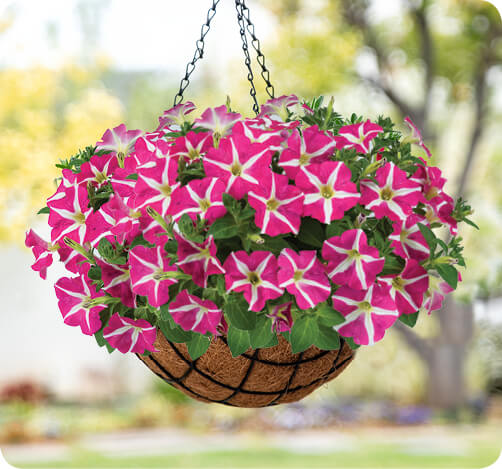 Adding STREAM™ Lobularia to your baskets fills them with honey-scented blooms that last all season long. This early flowering lobularia features a sturdy structure and lots of big flowers, in a wide variety of colors. Your customers will love the pretty, airy blooms. Bees and butterflies love STREAM too!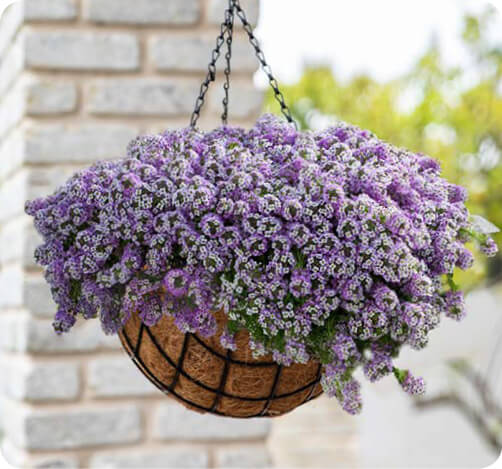 If you're looking for a low maintenance, heat tolerant variety to add to your baskets, try PAZZAZ™ Portulaca. This early blooming, moderate trailing series features big, beautiful color. PAZZAZ is a great shoulder season option, as it continues to look great at retail, even late into the summer.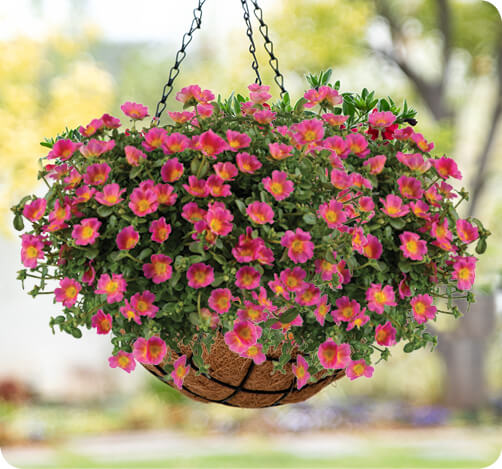 Whether you're choosing hanging basket annuals for full sun or shade, choosing the right variety can make a big difference in performance and profitability. What are some of your biggest challenges with hanging baskets? Share your comments with us!