While the calendar may still say we're in the winter deep freeze, floral design season is just warming up. Before you know it, wedding season will be upon us. One of the biggest trends we're seeing in 2019 is Going Green! This new design trend goes far beyond foliage! Including green flowers, accents and decorative fillers can add a whole new dimension to any floral arrangement.
What greenery is used for weddings?
In 2017, Pantone selected Greenery as its color of the year. Fast forward to 2019 and this energizing hue is still in style with its timeless look. Adding a mixture of green can add a fresh perspective compared to traditional bouquets. According to WeddingWire, the natural feel of green complements every type of wedding floral arrangement. From rustic and natural, to modern and elegant, green feels fresh.
The Color Marketing Group named Future Green as the 2019 Asia Pacific key color of the year. They say that Future Green is a hue of accomplishments, generosity, and above all, embracing a responsibility to the environment. It exhibits strength and resolves, suggesting the many guises as nature, offering itself in everything from glass-like translucent materials, to matte, gloss or textured finishes in things as varied as metal or wool.
"Green is such a flexible and innovative color for floral design," says Michal Shafransky Fridman, marketing and communications manager for Danziger Cut Flowers. "From arches and centerpieces, large arrangements to bouquets, we are seeing more green flowers being used as fillers and accents. In some cases, they're even being used as the focal point of the bouquet".
What filler flowers are used in floral arrangements?
With so many different types of green floral material available, it's important to find a variety that can accent bold blooms or take center stage on its own. Here are a few examples of floral fillers and greens that fit both needs.
Lepidium is an excellent example of a beautiful green filler flower for bouquets. It can transform any arrangement with its wealth of textures and vivid green color. It's the perfect flower to provide the frame for floral designs.
Danziger's new Green Dragon, a delicate and airy Lepidium, is a unique green filler for flower arrangements that blends harmoniously in any centerpiece or bouquet. Green Dragon has a heavier stem than other lepidiums, which won't tangle with each other, ultimately decreasing breakage.
Green Dragon offers a wide and voluminous inflorescence and longer vase life. The blooms cover a longer stretch of each stem, making it the perfect option for those looking for more flowers and less foliage. Green Dragon is a perfect complement for traditional arrangements with peonies, roses, and hyacinth.
It is also stunning and elegant when paired with green-hued hydrangeas.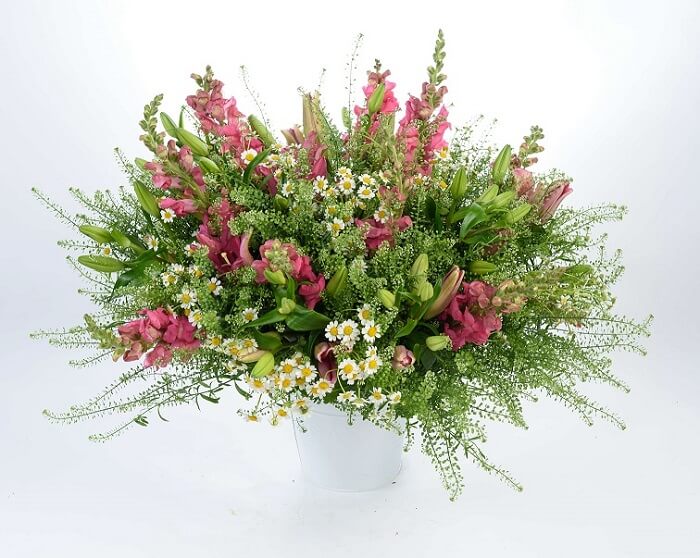 In the photo above, Green Dragon creates a wonderfully rustic centerpiece when grouped with foxglove, lilies and small daisies. This variety matches the colored bloom height, adding unique texture and space. Green really takes center stage in this arrangement, offering a fresh, eye-catching look.
Paired with mauve roses and ruby-hued and light pink chrysanthemums, Green Dragon adds an airy quality to a more traditional bouquet. The longer stretch of blooms provides a graceful feel of movement to the arrangement. 
Looking for an evergreen feel in your greenery? Try Bracelet Honey Myrtle as a green bouquet filler. Sometimes called Honey Bracelet (Melaleuca armillaris), this variety offers thin, woody stems and bright green foliage that adds lovely color and height. The soft leaves are needle-shaped and provide a rustic and woodland feel to any arrangement.  
Eucalyptus is a common filler used to add height, scent, and lovely green hues to arrangements. This long-lasting, go-to filler gets an upgrade with the use of Silver Dollar Eucalyptus (Eucalyptus polyanthemos). The unique leaf shape adds interesting texture and can often add a sense of movement to bouquets and centerpieces. The larger leaves can also create a beautiful backdrop for romantic boutonnieres and corsages.  
The round, thick leaves of Salal, commonly known as Lemon Leaf, (Gaultheria shallon) create a shiny, deep-green backdrop for any arrangement. Lemon leaf is known for its long vase life and its ability to add height and fullness to centerpieces and bouquets.
Including Hypericum in your arrangement is a great way to add unique color and texture. Danziger's BRISK series Hypericum adds a relaxed, natural look to bouquets with glossy green leaves and colorful berries. BRISK Mint is the perfect green addition, as this variety features plump, minty-green berries that draw the eye.