World famous fashion designer, Michael Kors is quoted as saying, "I've always thought of accessories as the exclamation point of a woman's outfit." Flower designers can put exclamation points on their arrangements by thinking in a whole new way. It's time to rethink fillers. Why just fill when you can accessorize?
"At Danziger, we like to envision certain cut flower varieties as accessories, not just fillers," says Liat Shermer, global marketing manager at Danziger. "Just as unique accessories can make an outfit, stunning flowers can draw the eye into floral arrangements and bouquets, making them stand out. Floral accessories may not be the star of the show, but they certainly add to the overall appeal."
How to Create Craspedia Flower Arrangement?
One favorite floral accessory is Craspedia. More commonly known as Billy Buttons or Drumstick Flower, Craspedia Globosa features round, ball-shaped blooms that sit atop strong stems. They really do resemble a drumstick, providing a very unique look. They're a wonderful accessory, providing unexpected visual interest.
Our PAINTBALL™ Series of Craspedia can help unleash your creativity, taking any bouquet, centerpiece or arrangement from looking good to looking GREAT. Each variety in the series features extraordinarily large, bright-yellow flower heads. The series has a high consistency of flower shape and size for a very uniform look, and amazing vase-life. PAINTBALL can also be tinted to maximize creativity, whimsy and fun.



With three varieties of PAINTBALL to choose from, you're sure to find a drumstick flower that creates the right rhythm for your craspedia arrangements.
PAINTBALL Globe includes medium to large flowers that are about 1-inch wide (2- 2.5- cm). They feature an oval shape, with slightly pointed tops. Just a few, well-placed Globe blooms make you stop and stare at this wonderful arrangement. While traditional fillers just create a backdrop, PAINTBALL serves as a subtle yet striking design accent.
The large, round blooms of PAINTBALL Pop add height and sassy swagger to this natural looking bouquet. The yellow colors stand out against a backdrop of pinks, oranges and purple, providing so much more than traditional fillers. Pop blooms are just a little larger than 1-inch wide (3- 3.5- cm).
We love using Pop to add unexpected color to foliage-forward designs. Paired with green fillers, it becomes the diamond bracelet of flower accessories.
'Expect the Unexpected' is a 2019 floral trend. Each of the PAINTBALL varieties can be tinted to match any color, providing virtually unlimited design options. Using immersion or spraying techniques can create bold, on-trend pops of color. Tinted PAINTBALL flowers can be grouped together on their own for a modern craspedia bouquet or added to arrangements for an effervescent "can't take your eyes off it" look. Dyed to match a specific color scheme, you can add just the right touch by including craspedia in a wedding bouquet.
Learn more about both immersion and spraying techniques by clicking here. 
Go big with your floral accessories by adding PAINTBALL Jumbo to your designs. Just as its name suggests, Jumbo brings extra-large, 1.5 inch (4 cm) pops of color that stand out in a way no other filler can. Bold and big against the large, bright orange blooms and smaller yellow roses, Jumbo is the big chunky necklace that makes this bouquet unique. Jumbo is also a wonderful addition to craspedia flower arrangements and centerpieces.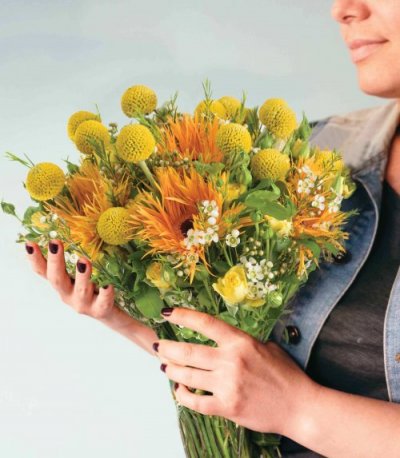 From big and bold looks to a soft whisper of something captivating, Craspedia offers a wonderful way to add just the right "wow" touch to your floral designs.
Need more ideas to spark your love of floral accessorizing? Here are a few that are hot for 2019.
Once thought of as the plant you put in the hot, dry areas of your garden, Succulents are heating up the floral design world. Delightful and chunky, succulents add interesting shapes, color and texture to bouquets, boutonnieres and corsages. They're that riveting accessory that makes you look twice.
Accessorizing can include adding something unexpected. Flowering cabbage and kale fit that description perfectly. Bred to be used in garden and floral design, these ornamental versions of the brassica family add frilly leaves and unique color. Just don't eat them – they likely won't hurt you, but they are definitely not delicious.
Just as dangly earrings add refreshing color and sense of style, the bubbly berries of Hypericum can make any arrangement more attractive. Danziger's Brisk Cosmopolitan Hypericum features medium to large light pink, almost coral-colored berries. Perfect for adding the Pantone Color of the Year to your designs.
Are you just filling in your bouquets or are you accessorizing? Share your design accessory ideas with us!